DOWNLOADS :
Registration form and Course Details [pdf]
Telegraphic Transfer Instruction for non-local (non- Hong Kong) participants
Online Registration Options:
Online Registration form [Typeform ]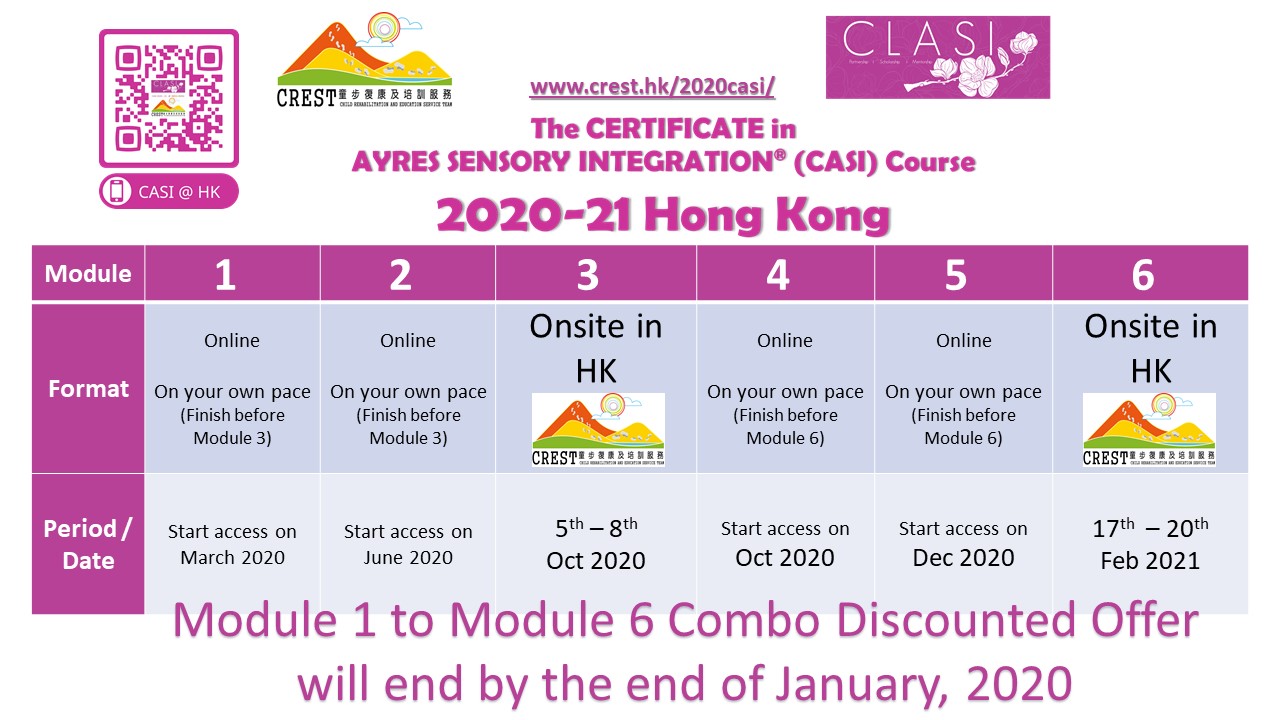 Frequently Asked Questions:
+ What is Ayres Sensory Integration® ?
+ What is the CLASI-CASI?
+ What is included in the CLASI-CASI program?
+ Who can enroll in the CLASI-CASI program?
+ What if I already hold an Ayres Sensory Integration Certificate from another program?
+ How can I compare the CLASI CASI to other certificate or training programs in sensory integration?
+ If I've started my Sensory Integration Certification process with another organization, can I switch to CLASI?
+ Are continuing education/professional development units provided through this program training?
+ How long do I have to complete the CLASI-CASI Program?
+ Can I take the modules out of order?
+ Does the CLASI CASI include training in the Sensory Integration and Praxis Tests (SIPT)?
+ Therapists have asked about the scope and content of CLASI's postgraduate Certificate in Ayres Sensory Integration® and whether or not we provide "SIPT Certification." Are these the same?
+ Will I need a SIPT kit to participate in the CLASI CASI?
If you have questions related to the topics above, you may refer to here https://www.cl-asi.org/FAQ for an answer
Feel free to let us know if you cannot find your questions here or still have enquiries after reading the above website.
DOWNLOADS :
Registration form and Course Details [pdf]
Telegraphic Transfer Instruction for non-local (non- Hong Kong) participants
Online Registration Options: